Well, yesterday was a bust. I didn't ride. I didn't canoe. I got wrapped up in the Olympic equestrian cross-country events and then I had an interview. Lame, I admit.
Today, I've got a lot of housework to do, some planning for the upcoming
ROCK the RIDGE benefiting LIVESTRONG
on September 23 with my partner-in-MTB-crime, Sean. But the weather doesn't look like it's going to cooperate for a ride, either.
So this self-motivation thing hasn't been working so well. I guess my own cancer journey isn't stimulating enough for me.
As I reflect on what a lazy slob I've become (well, I've always been a slob, but the lazy part is relatively new post-cancer), I think it's time that I rely on an oldie but a goodie when it comes to motivation - I look to YOU to kick my ass into the canoe and/or onto the bike.
Since the canoe is much more convenient in terms of location (the lake is literally a couple of hundred feet away from my house),
for every $18 that is donated to my LIVESTRONG Challenge account daily
(
even once I find a job
), I will canoe 1 clockwise lap around the circumference of
Lake Kitchawan
- that is a 2-mile lap.
Donate $25, and your lap will be counter-clockwise
(as that is how you go against "current" in the lake). If I get 10 donations in one day, I will canoe 10 laps.
The bike, sadly, poses more difficulty. Because I live at the bottom of a valley, it would mean a 3-4 mile climb up onto decent roads, with some hills close to a 10% gradient. Pardon my French, but it's a bitch even when one is in
great
fitness. Not me.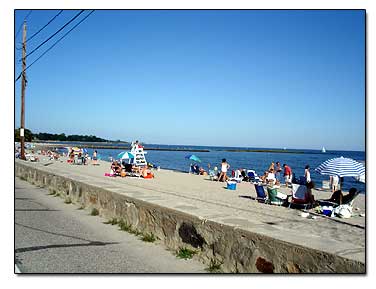 Therefore, I would have to load up the bike and drive to a new location to start the ride. Given the state of my fitness, it would have to be relatively flat, so I'd be shooting at the Norwalk/Westport beaches, a ride I was introduced to on the Blooming Metric 3 years ago. So,
for a donation of $36 or more, I will ride the Norwalk/Westport beaches
.
Want to make me suffer?
For a donation of $72, I will attempt (I can't make promises!) to ride up to Sherwood Island, which includes some climbs, and back to Norwalk, which includes a couple of more if I take the hilly route
.
I want to do this. I really do. But wanting to do it hasn't been getting me out the front door. There is too much anxiety and fear. But you all have made me fearless over the years - from my first mountain bike races, to taking on ridiculous distances. And this isn't lip service -
every single time I've looked to quit, I think of all of you supporting me, investing in me, and I stop myself
. If I've
ever
quit an event, it's been with aching guilt.
You really do motivate me. Please, help me regain my fitness again. Help me get back on my bike.