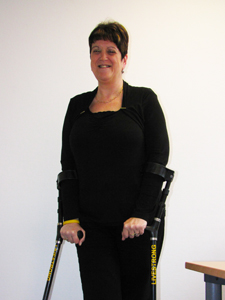 Rarely are those guys the same guys. But, let's hope to turn that around for my friend, Annemiekeh.
Annemiekeh is the portrait of fighter. She is
a cancer co-survivor
(as documented here on
Voices of Survivors
), which led her to become a LIVE
STRONG
Leader in the Netherlands. Due to an accident while riding her bike, she relies on crutches, at least to help her walk. But her spirit and determination, when many people would just settle for the crutches, makes Annemiekeh stand tall, proud, and apart from your average person.
This year, Annemiekeh has been challenging herself to ride her bike. Not just casually. Not just for a mile or two. She has given herself a significant challenge - a LIVE
STRONG
Challenge - The LIVE
STRONG
Challenge in Austin. Yes, the same Challenge that many of us, who haven't suffered the kinds of injuries that could have prevented us from riding again, are training hard to participate in. From her
LIVESTRONG Challenge Page
:
On December 2nd 1999, I became the victim of a hit and run that left me depending on crutches for the rest of my life. In the same year I had seen Lance Armstrong win his first Tour de France after surviving cancer. His courage to fight and go on gave me the strength and inspiration to do the same. In the last 10 years I saw Lance win 6 more Tours and do a remarkable Comeback 2.0 I worked on 5 hours of exercises each day to be able to walk on crutches. Last year I got the change to honor Lance's courage and the 9 family members that have been affected by cancer by becoming a Local LiveStrong Leader and this year I got the go ahead to get back on a bike and train for the Austin LiveStrong Challenge 2010. Please help me reach my goal and help those afflicted by cancer!
Pretty powerful words from an even more powerful lady.
Now, here's the rub. A mutual friend very graciously gifted a bike to her earlier this year so that she could start riding and training on the road (she'd been doing
ridiculously
long indoor training sessions that, as I told her, put me to absolute shame). And she's been riding her dear heart out.
Until the other day, when, like me in October, she was hit by a car. Fortunately, she is ok. But the bike was totaled
.
She's not letting it stop her - she's still training indoors, but obviously, she needs a bike. Badly. She needs a bike to train with in the Netherlands, and she needs a bike to ride in Austin.
If I learned anything in the fall of 2009, when my only road bike was totaled, and friends from LIVE
STRONG
gathered far and wide to connect me with my Bianchi Eros, since, I, like Annemieke, didn't have the funds to purchase a new bike, it's that miracles can happen - even to those that seem to only have all the pain and none of the luck.
So, here's this week's LIVE
STRONG
Challenge for my readers, friends and colleagues - help me and her other LIVE
STRONG
friends from around the country, help Annemieke get back on two wheels!
If you have
any
resources, contacts or ideas, please contact me directly at
ricamendes.livestrong@gmail.com
!
Thank you! And
please
share this blog!